Commemorating the Centenary of WW1's End

With the Centenary Armistice Day almost upon us, we were excited to catch up with our Senior Contracts Manager and former Major in the Royal Engineers, Chris Ackerman! Arriving at AmcoGiffen's Derby office in his Royal Engineer tie, with a poppy pinned proudly to his jacket lapel, it was clear to see that Chris' 18 year military career continues to play an important part in his life today...
Having attended Welbeck Army 6th Form College from 1994 -1996, followed by the Royal Military Academy, Sandhurst, Chris was commissioned into the Royal Engineers in 1997, with the aspiration to deliver interesting and challenging infrastructure projects around the world.
Posted to Germany in 1997, Chris took command of a 'Troop', which consisted of circa 30 Royal Engineer soldiers of mixed engineering trades and disciplines. Training in low level exercises before moving on to 'Brigade' level exercises in Poland, Chris prepared his troop to provide engineering support across the spectrum of conflicts, from humanitarian support to war fighting.
This led to a versatile, adaptable and expedient way to provide civil engineering solutions to support operations in various regions throughout the world. In January 1998, while preparing to go to Bosnia, Chris was redirected to Kosovo in support of Operation Agricola, the NATO deployment of the forces. Here, he provided support for the humanitarian crisis that threatened the region's stability.
Providing basic infrastructure facilities for the endangered refugees flooding from Kosovo to Macedonia, Chris played a significant part in ensuring the inhabitants of Brazda refugee camp had a safe water supply, logistics for food stations, tents, and a linking bridge to the adjacent airfield for supply transportation. Surprised by the fascination of the young refugees, Chris stated that "it's amazing how relatively simple civil engineering can save the lives of people in difficult and transient regions of the world. This knowledge got me into bridges in a big way!"
From there, Chris completed a Civil Engineering degree before working as a Regimental Operations Officer in Maidstone, Kent, where he was responsible for co-ordinating the training of around 800 soldiers. Deploying to the Middle East in Jan 2006, Chris worked in the Multi-National Division, identifying and prioritising foreign aid investment in engineering projects throughout the South East of Iraq. Demonstrating clear passion for his work, Chris said, "Again, this left a lasting impression on me regarding the way civil engineering impacts the livelihood of populations in challenging circumstances. I'm proud to be a part of that."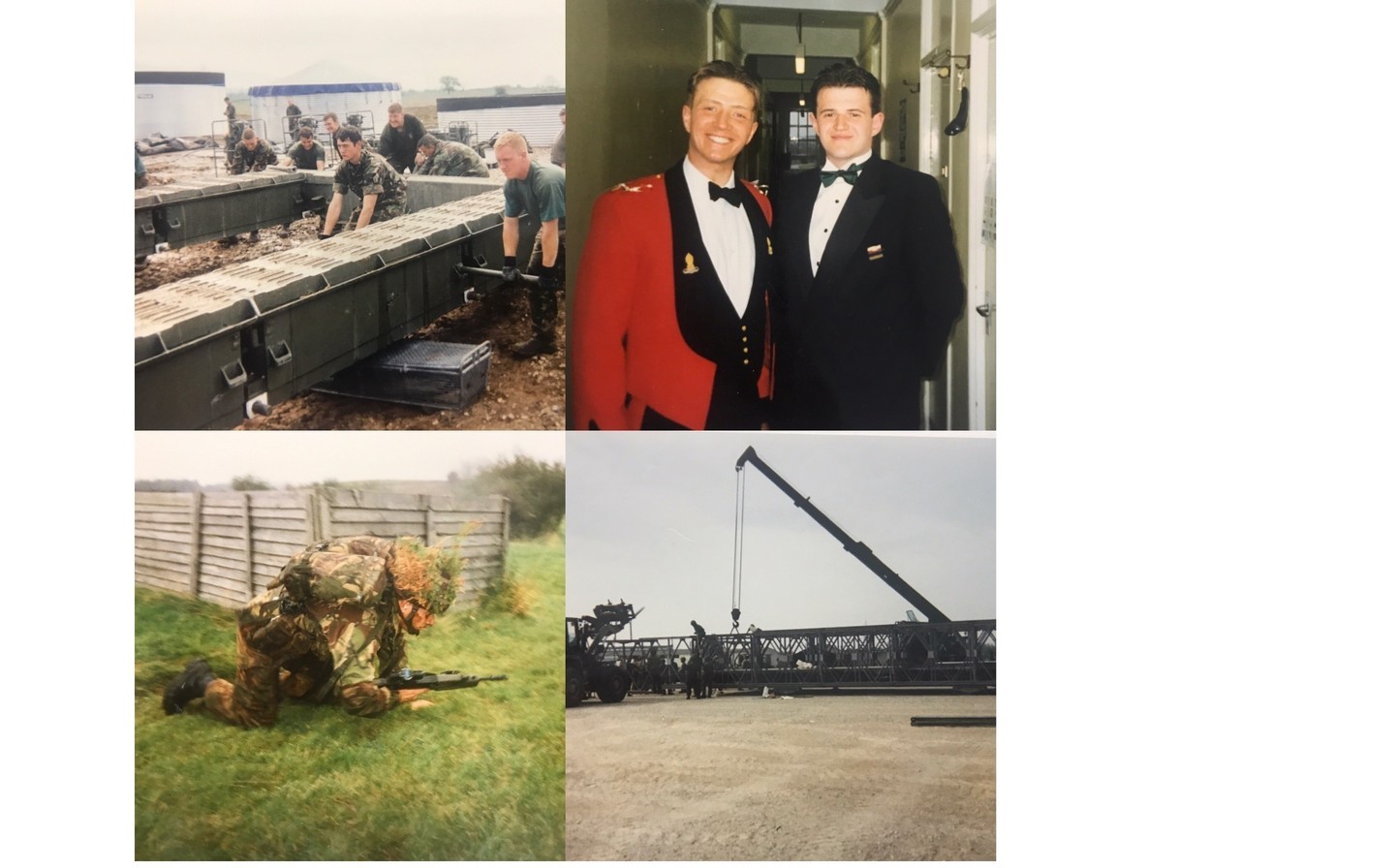 Buoyed by this, our young officer was posted to Chatham where he undertook an MSc in Military Construction Engineering and began Chartered Engineer training with the Institution of Civil Engineers. He was then placed on an industrial attachment in Melbourne, Australia, from 2007-2008, as a senior project manager in John Holland Ltd. Combining client, contractor and design management roles, Chris managed a team who progressed 20km of passing lane extensions, from early design to substantial completion - as well as developing a further 20km of rail!
As the next 5 years in the Royal Engineers flew by, Chris moved from developing equipment to defeat improvised explosive devices in Afghanistan, to commanding a squadron of Royal Engineers in Cambridge and Kinloss, Scotland. Leaving the forces in 2014 to provide his wife and 3 young children with a more settled lifestyle, Chris' experience in rail and bridges had a lasting impact…
Utilising his transferable skills and military-honed diligence, he found his way into Network Rail as a programme manager, before joining the AmcoGiffen ranks in Jan 2018, where he gets to continue his guilty pleasure of building bridges and infrastructure in the rail environment.
Talking of his career in the Army, Chris explained that he often reflects on the sacrifices made by the millions of service people throughout the last century, as well as the friends and colleagues he served with. He explained "Remembrance Sunday is always such a poignant occasion - and this year is particularly profound. Military service continues to secure and improve the lives of so many around the world. I am very proud to work closely with organisations associated with the Armed Forces, helping service leavers to transition to civilian life. This includes the Career Transition Partnership and Officers' Association, who helps us to integrate leavers into rail and engineering infrastructure projects that continue to benefit everyone."
We're excited about the prospect of welcoming more military-leavers into the AmcoGiffen team! Watch this space….