Traeth Mawr Viaduct Restoration Project
Working on behalf of Network Rail we've been carrying out an essential timber replacement programme to restore Traeth Mawr Viaduct which provides a vital transport link connecting Porthmadog and Minffordd. The location of the viaduct and the water level working environment meant that we had to create a new jacking system that could be mounted ahead of work.
The new system has allowed us to quickly and safely replace end of life timber on the structure providing a safe, reliable and resilient railway for passengers.
The viaduct is a timber construction made up of 16 spans and carries the Cambrian Line across the Afon Glaslyn alongside the Porthmadog Bypass (A487). It's single track with timber decking and beams supported by timber trestles. The substructure consists of timber crossheads on timber piles with diagonal bracing and lower level timber ties. The superstructure houses rails carried on sleepers supported by timber decking on timber beams which are supported between the trestles and each trestle has five piles.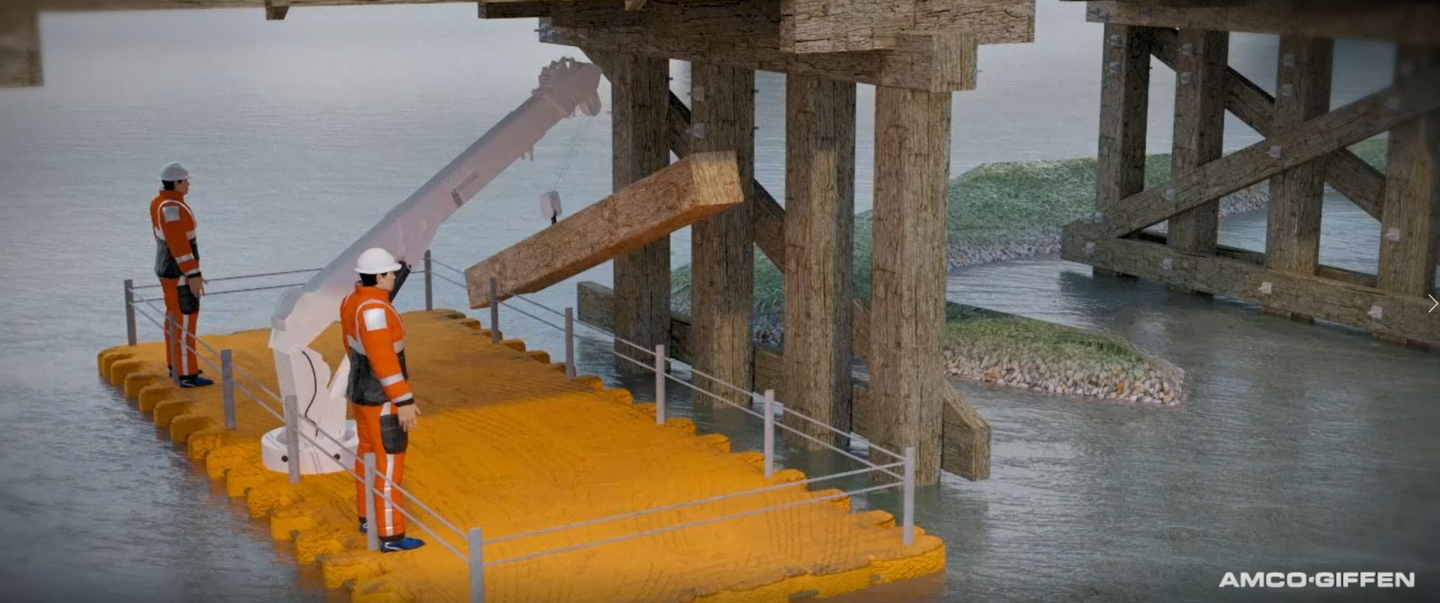 Not all the timber required replacement and we programmed the work based on priority of each element with some work to be carried out separately using separate access areas.
The viaduct is located in a tidal estuary although the area is protected by flood gates at Porthmadog the area is susceptible to weather with rain water running from the surrounding mountains into the River Glaslyn and contained in the area by the flood gates which presented a different challenge. During the nine day possession in February we witnessed four seasons of weather as well as flood water levels varying by around three metres with high flows and wind speeds of up to 60 miles per hour.
To minimise the impact of flooding during the nine-day blockade we use road rail vehicles on the track supported by jack-up barge and pontoons on the water. We also developed the bespoke jacking system that could be installed below the structure ahead of possession, saving time. All activity was strictly monitored for risk and we did have to stop diving work during some of the possession due to fast flowing waters and high winds temporarily stopped the use of scaffolding and road rail vehicles for safety.
The restoration project will help prevent future disruption and reduce maintenance costs on the line.